The FFXIV Gear Design Contest Deadline Approaches
FFXIV Gear Design Contest is a reminder to all designers of the realm, the deadline for the Gear Design Contest (Ranged Magic DPS/Healer Edition) is on Friday, February 24th at 6:59 a.m. (Pacific Time). If you are currently working on your entry or considering to enter, be sure to submit your entry by then!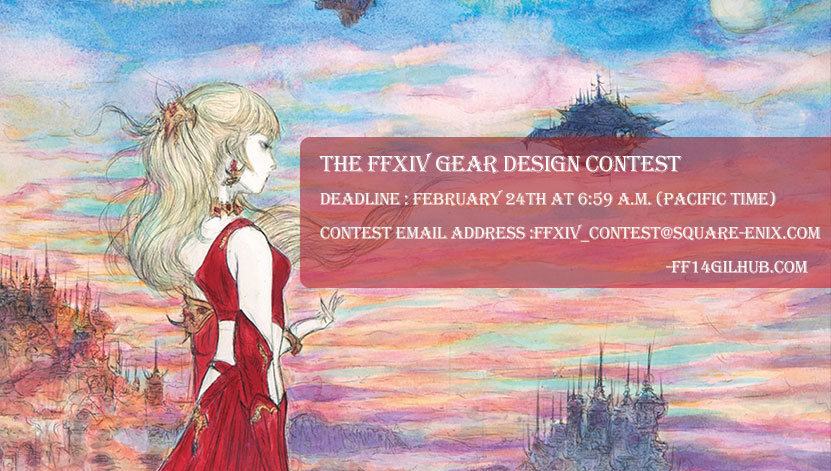 FFXIV Gear Design Contest Rules
Entry Requirements
You must possess an active FFXIV account at the time of submission and agree to the criteria written below. By submitting an entry, you confirm that you have read and agree to the terms and conditions below, and that you are eligible to participate.
Entry Period
January 27, 2017 at 4:01 a.m. (Pacific Time) to February 24, 2017 at 6:59 a.m. (Pacific Time)
Entry Format
1-2 images: front design (required) and back design (required)
Image format: .jpg or .png
File size for each image must be larger than 500 KB, but total email size with all attachments must not exceed 3 MB.
If creating an entry by hand, please take a picture of the entry and send the image via email.
* There is no limit on the number of entries an Entrant may submit, and Entrant may submit entries for both categories, but each entry must be unique and each entry must be sent in a separate email.
* Please note that you may not be considered for selection if your image resolution is too low or there are other graphical issues present in the image.
Entry Categories
Gear for ranged magic DPS characters (including head, body, hands, legs and feet)
Gear for healer role characters (including head, body, hands, legs and feet)
Design Requirements
Please create entries using digital drawing software, or sending in a photo of artwork you have drawn by hand
Please create designs that show both the front and back of the gear when equipped
Please ensure your design includes a full set for all 5 categories: head, body, hands, legs and feet. Please include any additional information and/or explanations within the entry image itself (for example, pointing out any aspects of the gear that may be hidden when equipping the full set)
Your design may feature any in-game race/gender combination of your choosing
Winning entry needs to be a gear design which can be used by any race/gender, therefore any entry specific to any one race/gender may be removed from the grand prize winner selection
When the gear is implemented, we are planning to make it equip-able for all races and genders. If no specific information is included about how the gear should look when equipped by male or female characters for example, the development team may make adjustments
You may feature a weapon to go along with your armor/clothing design, but only armor will be implemented into the game.
The development team will assign in-game parameters and stats.
Winner Selection
The FINAL FANTASY XIV development and operation teams will select the initial list of finalists, and we will post these entries on a Lodestone topics at a later date. The final judging will take place after this, and the winning entries is planned to be announced via Lodestone topics within three (3) months of the conclusion of the entry period.
Prizes
Grand Prize: 1 winner (for each category)
Implementation of the winner's gear design into the game A set of four (5) in-game items:
Gaelicap / "Noble Barding" Chocobo barding / Mandragora Choker / Ahriman Choker / Bluebird Earring
Runners up: 10 winners (for each category)
Bluebird Earring
* The number of winners for each prize is subject to change.
* The development team may make adjustments to the grand-prize-winning design.
* Prizes will be delivered in or around May 2017.
* In the event that an entry other than the grand prize winning entry is deemed to be excellent, Square Enix may choose to implement it in the future.
How to Submit an Entry
Only submissions via email will be accepted. Please be sure to use the following format and include the following information when submitting your entry:
Email subject for ranged magic DPS entries:
FFXIV Gear Design Contest – Ranged Magic DPS
Email subject for healer entries:
FFXIV Gear Design Contest - Healer
Contest Email Address : [email protected]
Information to Include in the Email Body
Character name and World name* Required Nickname* Required Entry title Comment about your entry (50 words or less)
* You may submit as many entries as you like.
* Your nickname, entry title, and comment will be publicly posted along with your entry when we announce finalists and winners.
* Other than instances when you are using your real name as your nickname, please do not include personal information such as your name and address in the body of your submission email.