The best way to make gil for level 45+
When I first started playing around 2.2, I decided two things, I wanted to be a Monk and I wanted to be a Weaver. Even before I hit level 50 on my MNK, I had made my first million gil buying ff14gilhub.com off the mb and selling HQ velveteen in small stacks of 5-10 at a time. I did this because I was trying to level weaver and it was the most profitable in terms of gil/experience at the time. I took the NQ mats and literally went down my crafting list and made one of every item HQ for the mb for leveling gear; this gave me a first time bonus to EXP and made me something like 500k+.
Looking back, I was only leveling one class at the time; and mind you very inefficiently. I didn't do my daily GC turn ins or leves, I leveled up entirely off working the mb. I could have made significantly more gil if I had leveled all of my classes at the same time using the same method; or leveled them all much faster if I had included GC turn-ins and leves (which I did when I leveled all of them to 50 and 60 later).
The game has a LOT more ways to make gil now, with the MSQ giving you over a mil just from rewards as you level and materia/gear to sell. You're only level 45 right now, in a game where 'rich', is very subjective. When I was that level, a million to me was a massive milestone and a staggering amount of gil, it was 1/3rd of the way to a house that my entire FC of 20+ were raising the gil for at the time. The game has almost zero "required" gil sinks in the game, you'll be able to afford basic food and repair bills just by doing dungeons. However, making gil can be extremely fun and let you enjoy some of the silly things the game has to offer like vanity items. The trick really is simply to contribute to the economy and spend/earn. Sell everything you get your hands on, always be selling 20/20 items on every retainer. Start a crafting class and earn gil as you level up. Start a gathering class and sell everything you gather to level up. You can save yourself gil by crafting your own gear as you go and making extra sets/mats to sell. I think something people don't quite realize is how much earning power they have by doing things that are fun and they may already be doing anyway. People also tend to forget that players like you are the players that drive the economy of the game more than anything.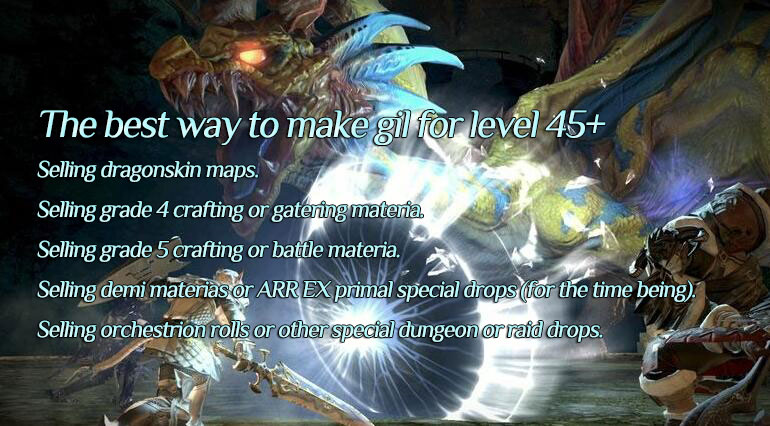 Crafting as per usual.
Selling dragonskin maps.
Selling grade 4 crafting or gatering materia.
Selling grade 5 crafting or battle materia.
Selling demi materias or ARR EX primal special drops (for the time being).
Selling orchestrion rolls or other special dungeon or raid drops.
Literally, you can sell just about anything and make some quick cash. I sell orchestrion rolls that just randomly drop into my inventory for 600k to 1mil all the time, I generally make about 500k daily from grade 4 CP and Control materia +1 dragonskin map.
You just have to be willing to put in the work to get to the point where you can earn these items to sell.
That being said... you're level 45. You have another 15 levels before gil really matters and even then that's subjective. All I spend my money on is HQ GC turn ins and buying HQ crafting and gathering gear. There aren't huge huge gil sinks for melee at end game perse (other than vanity and the staggered battle gear).
The best thing you can do is just keep leveling your main class to 60, sell everything in your inventory on your retainers and you should be able to get up around 800k-1mil just off of that.