Final Fantasy XIV Storms into PAX East 2017
The FFXIV team is flying eastward once again to attend PAX East 2017 in Boston! Final Fantasy XIV'll be hosting a special Warring Triad roulette with unique challenges to overcome and rewarding triumphant adventurers with a Stormblood t-shirt! Yoshida will be on hand to visit with fans at the booth and to host a Q&A panel on Saturday!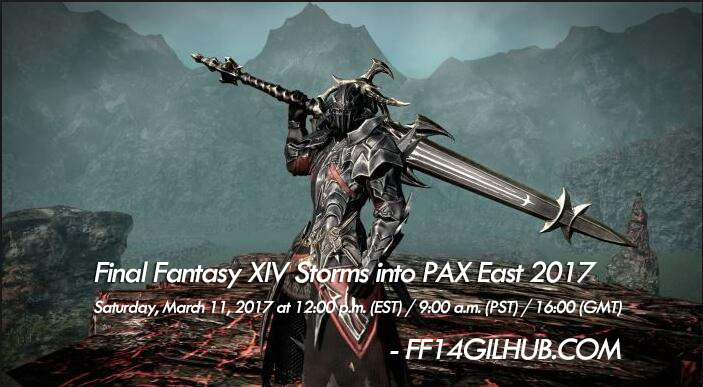 Date & Time
Saturday, March 11, 2017 at 12:00 p.m. (EST) / 9:00 a.m. (PST) / 16:00 (GMT)
Can't make it to PAX East? Don't worry! The panel will be streamed live for adventurers around the globe to tune into!
Where to Watch
FINAL FANTASY XIV on Twitch (http://sqex.to/htj)
Official PAX East on Twitch (http://sqex.to/TLA)
The Warring Triad Challenge
Form a party of adventurers and tackle a random member of the Warring Triad, but with a twist! There are various challenges that will be imposed upon the party to make the battles a bit more...exciting! Should your group emerge victorious, you'll earn yourself a Stormblood t-shirt!
Final Fantasy XIV're looking forward to seeing you at PAX East! Be sure to stop by the booth and say "hi" to the team members there!
Q&A Panel Details
Producer and director Naoki Yoshida will host a live Q&A session on Saturday! Final Fantasy XIV'll be gathering questions from attendees to the Square Enix booth on Friday, and also taking live questions from the audience during the panel! Panel attendees will also receive a mini Stormblood poster featuring the Zenos key art!