Final Fantasy XIV Patch 3.3 Trailer Discussion
So, as many of you likely already know, the 3.3 trailer hit.
;
Open with Estinien-Nidhogg making his evil speech about how he's vengeance incarnate. Yeah, yeah, we already know that. In a turnabout from 3.1 and 3.2 the Main Scenario Quest segment is first, consisting of nothing but Aymeric seemingly trying to get Hraesvelgr to finally get off his feathery arse and help us, and the fierce Battle on the Big Br- er, the Final Steps of Faith. End with the Warrior of Light striding toward Nidhogg while the Temple Knights flee for their lives. (We may be near our emotional breaking point, but damn if that's not badass.)
Weeping City of Mhach preview. Starts with normal enemies that become progressively more eldritch as you descend into the depths. Of note is that the boss speculated to be Ozma apparently is not the final one, and it's capable of changing form reminiscent of Ramiel from the Rebuild of Evangelion films. I'd say the final boss is Scatach herself, but that seems unlikely before the finale.
Beast Tribe quests for the moogles of the Churning Mists. As much as I detest the little blighters after 3.0, I'll probably end up doing them just because I want to get my 3.x crafting up...
Hullbreaker Isle (HM), which as promised, has been refitted into a Maelstrom training camp. Final boss seems to be Eynzahr Slafyrsyn, meaning we'll finally get to go toe-to-toe with the legendary Mistbeard himself.
Aquapolis, which there isn't much to say about. Very simple-looking loot dungeons.
More Hildibrand quests. I like the comic relief, and am reasonably certain we are going to need it after the MSQ, but on the other hand I'm getting a little disappointed we still haven't gotten anything from the Scholasticate since 3.1.
Flowerpots, which... don't interest me much, to be honest, seeing as I'm a solo player and thus devoid of housing or rooming to do much with. I did like the casual clothing on the miqo'te in that scene, though; I like using casual outfits for NIN glamours.
4 new hairstyles, including the obligatory pompadour so you can be a proper delinquent now if you want. Still no gakuran to complete the look though.
New gear sets, including Vath and Vanu cosplay as well as a set of pajamas. And the piggy suit.
The Fields of Glory (Shatter), which also doesn't interest me too much because I'm not into PvP (never have been, ever). Looks exciting though, kind of? (I really have no idea what's going on there, so...)
Palace of the Dead, which seems interesting if only for the fact it gives you a never-solid dungeon to go through with yer buddies. Based on the giggling it could be Edda in the depths, but since it's available from Lv17+ that seems unlikely unless she (and the deeper levels) only become available at higher levels. Or something new, and it was just a reused sound clip.
Sohr Khai, which seems to include a fight against Chief Moglin and his Mogglesguard so we can finally beat the stuffing out of them see why they are the allies of the dragons and defenders of the weak in the Churning Mists. Interestingly the final boss seems to be Hraesvelgr, likely as a test to earn his assistance.
And finally, the Final Steps of Faith, where we get to see Nidhogg's true power. Seems to still use an add phase, albeit with more advanced dragonkin than in the Aery. He also seems to be using a new super in place of Massacre, in which he transforms into a half-Elezen form reminiscent of T9 Nael deus Darnus, summons runes and gathers energy, then uses what appears to be an immensely more destructive variant of the Dragonsong Dive. Will there be an "Estinien" phase to the fight?!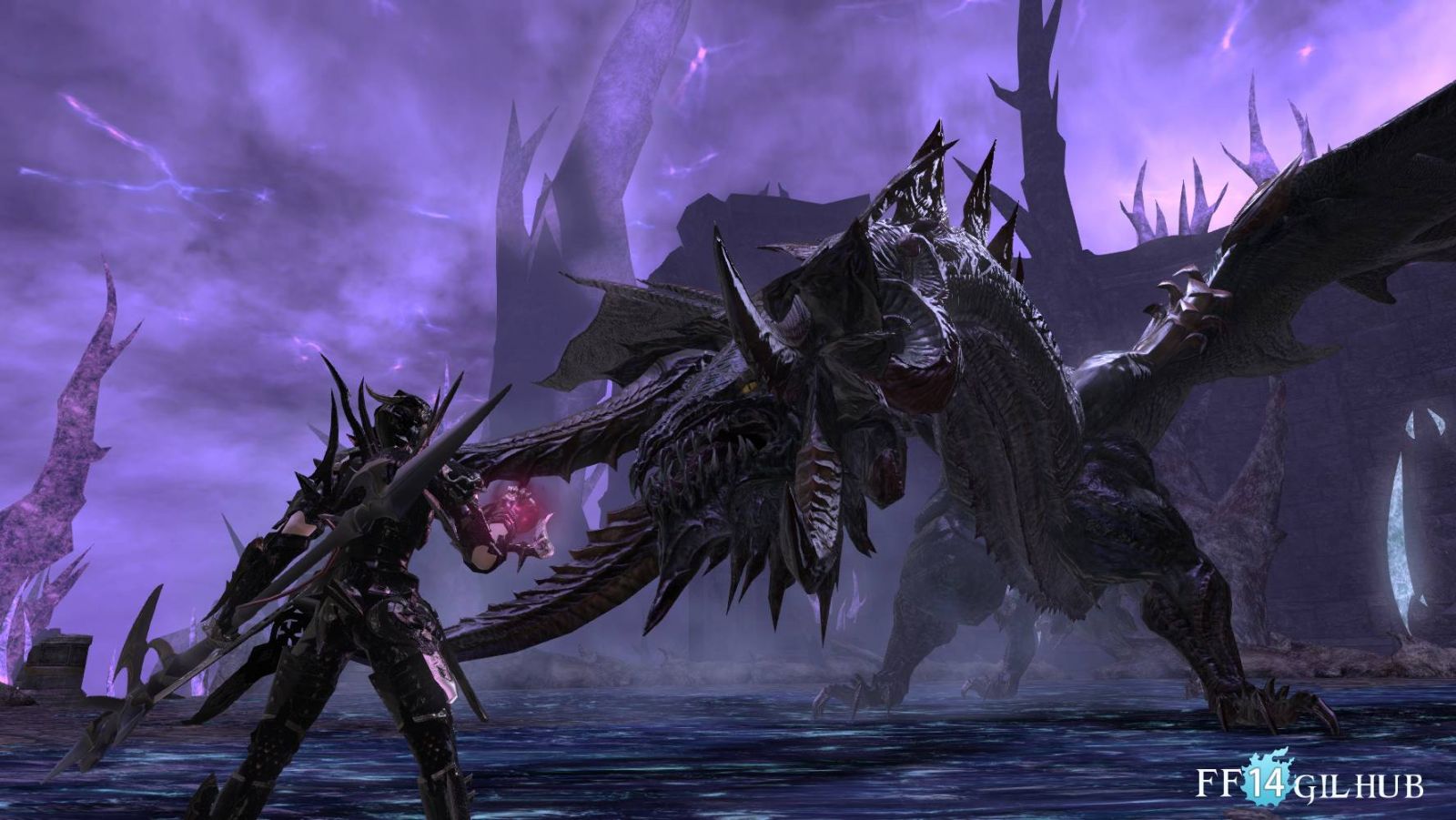 So... let's wait a week and a half! The finalé of the Dragonsong War is fast approaching! (Just pray nobody dies.)
That's what makes us a bona fide hero though. It's not the divine blessing, martial might, or ability to topple impossibly powerful foes. We advance toward what lesser souls retreat from... even if we're probably just as terrified, especially since Estinien is our in-universe dear friend.
I gotta do it in my now-iconic crimson (Dalamud) red Chaos set. (Not like I can do it as anything else, given I've taken a break from the game in general and just started playing again to level [MRD/WAR]/[PGL/MNK]...)
The skirmish with the Garleans and van Hydrus probably isn't in the trailer because it doesn't add anything (it's just an instanced fight in the ARF a la the Vault fight from 3.1) and doesn't relate to the story (the final battle against Nidhogg and the Horde). It might be important to the overarching Triad plot (and thus the overall plot of the game), but it's not a big deal right now.
Palace of the Dead is going to be in FFXIV 3.3 Patch.