FFXIV Stormblood begining Friday,June 16, 2017 at 2:00 a.m. PT
FINAL FANTASY XIV: Stormblood is now available for pre-purchase on the Steam platform. Please keep in mind that this is a pre-purchase and not a pre-order, meaning that the product will be charged for immediately upon checkout on Steam.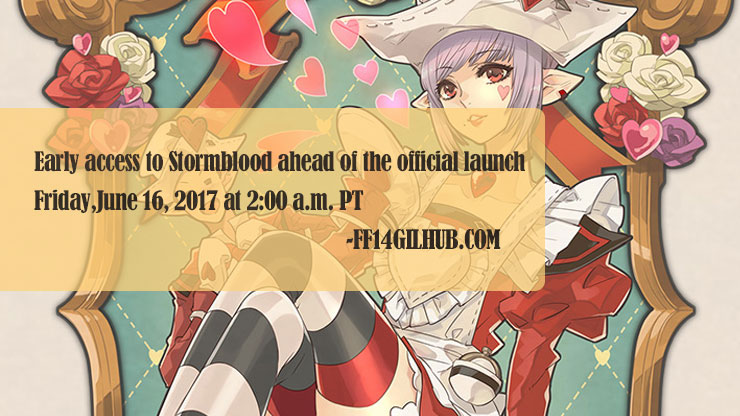 Early access to Stormblood ahead of the official launch (scheduled to begin Friday, June 16, 2017 at 2:00 a.m. PT)
Exclusive in-game items:
Wind-up Red Mage Minion and Ala Mhigan Earrings
FINAL FANTASY XIV: Stormblood Note:
This expansion content available on Steam may only be registered and added on a Square Enix account that has the base FINAL FANTASY XIV game purchased and registered on Steam.
Once you have purchased the game, you will be able to view your registration codes by right-clicking on "FINAL FANTASY XIV" in your Steam "Library" and selecting "View CD key" on the Steam client. The codes will always be accessible from this location should you ever need to reference them again. Please note that these codes will only work on Steam FINAL FANTASY XIV service accounts.
Registration Code Details
The FINAL FANTASY XIV: Stormblood registration code ("RE3A" codes for standard edition and "RG3A" for digital Collector's Edition) found in the CD key section of Steam can be redeemed on Mog Station beginning on June 20, 2017.

Pre-order Bonus Code Instructions
The pre-order code (prefix "RF3A") that grants early access and in-game items can be redeemed immediately on the Mog Station by selecting the "Enter Pre-order Bonus Code (Early Access Code)" option. Simply follow the steps to redeem the code on your account. The in-game items referenced above will be sent to characters on your account at the official launch of Stormblood.