FFXIV PS4 Getting Started
1. Starting FFXIV
Click the button below to read an explanation on the installation of FINAL FANTASY XIV: A Realm Reborn.

2. Data Center Selection
When logging in for the first time, you will be prompted to select a regional data center.
Your choice of data center will determine the Worlds you may choose from after creating your character.
Please note that characters are bound to the World on which they are created.
* Your data center can be changed at any time via the Data Center Selection window at the title screen.
1. Select a data center.
2. Review the list of Worlds housed by your chosen data center.
3. Create Your FFXIV Character
Manipulating the Character Creation Screen
DUALSHOCK®4 Wireless Controller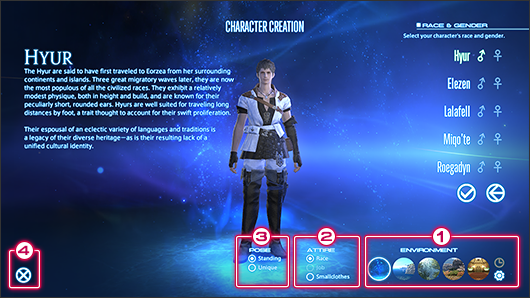 Moving the left or right analog stick will rotate the camera. You can zoom in and out by holding down L1 and moving the right analog stick up and down. Holding L1 and moving the left analog stick up and down will adjust the camera height.

Mouse and Keyboard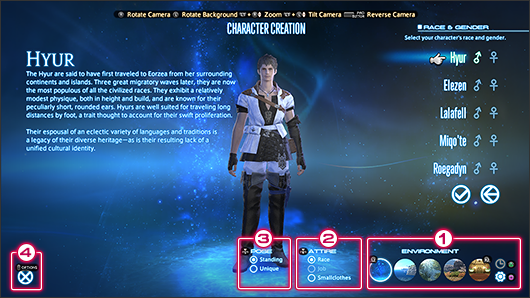 Dragging the mouse while holding down the left mouse button will rotate the camera. Dragging the mouse while holding down the right mouse button will rotate your character. You can also zoom in and out with the camera by scrolling the mouse wheel up and down. Holding down the mouse wheel and dragging the mouse will adjust the height of the camera.
Character Creation Screen Controls

1. Change background image.
2. Change character gear.
Race Displays default race gear.
Job Displays job-specific gear. (Available only after selecting a class)
Smallclothes Displays undergarments. (i.e., no gear equipped)
3. Toggle between standing and unique character poses.
4. Return to the character selection screen. Current character progress will be lost.