FF14 3.3 patch - Fish Tank Housing item suggestion
There is 2 Kinds of fish tanks.
1: Show off the fish inside your house as a vanity pet. (You can place your own big catches in it without having to feed it) (Can have as many as you want.)
2: As a gardening/harvesting tool. (Can only have one)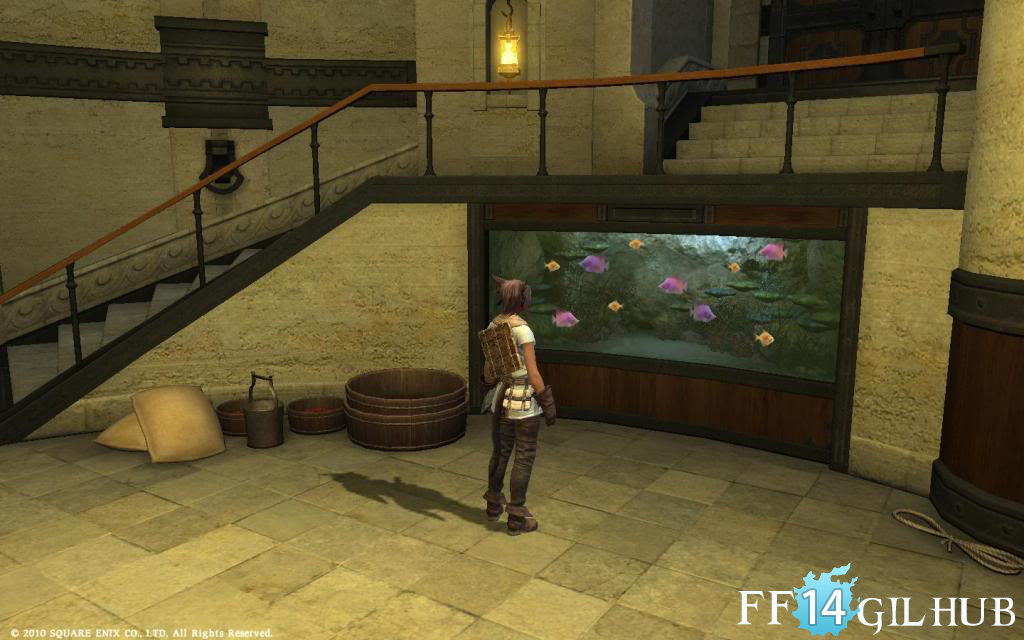 Fish Tank can hold 1-3 fish based on their size (Small, Fair, Large). As long as they're the same kind that swim in the same sand.
Sands & the grade are required for the type of fish you are about to place inside the tank. For easier Big Catches they require a Grade 1 and Harder Big catches like for the legendaries they require Grade 3. Grade 3 can handle all fish regardless if its a lesser tier Big Catch.
Grade 1-3 Sea Sand (Ocean)
Grade 1-3 Fine Sand (Sand)
Grade 1-3 River Sand (River)
Grade 1-3 Cloud Sand (Air)
(Extra Added Later)
Grade 1-3 Magma Sand
Grade 1-3 Aether Sand
You can get these sands by Cul desyth on level 30-60 fish.
Big Catch Fish can only be placed in fish tanks.
Once in the fish tank they will require lesser fish to feed them. They can only eat other fish from their own ecosystem most of them time. As long as its the same kind of fish from their pool then you can feed it to them. If the fish is your feeding is a mooch required fish it will feed the big catch more and be able to yield more items/raise the drop rate when you harvest it. It will take more fish to fully feed it if its a common fish.
Once the fish is at the required size you can harvest them. This will yield fish meat, mats or other items.
If there is other fish in the tank and you don't feed them one of the fish will eat each other. Who wins is based on their size. If you don't feed them at all they will die and the tank will turn green and dirty.
Sushi food will get added to the game to go along with this. Along with mats for Scale Armor, mats for GSM acc etc.
You can't take out the fish tank once the fish tank is empty.
This should boom the fish market for all common fish & Big catches & other crafts.